日獣会誌 52,780~783(1999)
わが国の6地域における飼育犬のレプトスピラ抗体保有状況
阿久沢正夫、大石明広、冨宿誠吾、出口栄三郎、三角一浩
坂本 紘、安田宣紘、岡本嘉六、杉村崇明
要 約
 わが国の6地域における飼育犬の血清レプトスピラ抗体陽性率は北海道25.8%、静岡県40.0%、富山県8.9%、兵庫県10.0%、岡山県15.0%、沖縄県29.0%であった。
 これらの抗体は、従来わが国で常在が確認されている6血清型(Leptospira autumnalis,L. hebdomadis,L. australis,L. icterohaemorrhagiae,L. canicola,L. pyrogenes)に対するもので、わが国では確認されていないが外国では家畜への強い病原性が認められている2血清型(L. pomona,L. hardjo)に対する抗体は検出されなかった。
 抗体陽性犬は臨床的に正常で、レプトスピラ症が疑われる症状および病歴はなく、血清のブドウ糖、BUN、GOT、GPT、アルカリフォスファターゼ、総コレステロール、総ビリルビンの値も正常範囲内であった。
(注:上記の北海道のデータには、当院から著者に送った相当数の血清が含まれています)
J Vet Med Sci. 2009 Sep;71(9):1191-9.
Nationwide survey of leptospira antibodies in dogs in Japan: results from microscopic agglutination test and enzyme-linked immunosorbent assay.
Iwamoto E, Wada Y, Fujisaki Y, Umeki S, Jones MY
Mizuno T, Itamoto K, Maeda K, Iwata H, Okuda M
SUMMARY
 Leptospirosis is an infectious disease caused by Leptospira interrogans sensu lato and is common in both humans and animals.
In the present study, serum samples were collected from 801 dogs across all 47 prefectures in Japan, and evaluated with a microscopic agglutination test (MAT), using 5 major L. interrogans serovars (Icterohaemorrhagiae, Canicola, Autumnalis, Hebdomadis, and Australis) as antigens, and an enzyme-linked immunosorbent assay (ELISA) using recombinant OmpL1 protein as the antigen.
Across all dogs tested, 217 (27.0%) and 29 (3.6%) were MAT- and ELISA-positive, respectively.
However, evidence strongly suggests that MAT also detected antibodies produced by vaccination. Of 243 dogs never inoculated with any canine vaccine, 41 (16.9%) from 23 prefectures were MAT and/or ELISA positive. The most commonly detected serovar was Icterohaemorrhagiae (22 dogs, 19 prefectures).
Our results suggest that there are dogs with subclinical Leptospira infection throughout Japan. To the best of our knowledge, the present study is the first nationwide survey of Leptospira infection in dogs, and the findings are relevant not only for clinical veterinary medicine but also for public health.
レプトスピラ病の症例犬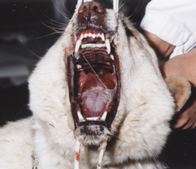 当院でのレプトスピラ病の症例犬。口の中がひどくただれています。 血液中の抗体を調べることで、L. icterohaemorrhagiae感染(レプトスピラ病のイクテロヘモラジー型)であることが証明されました。
---